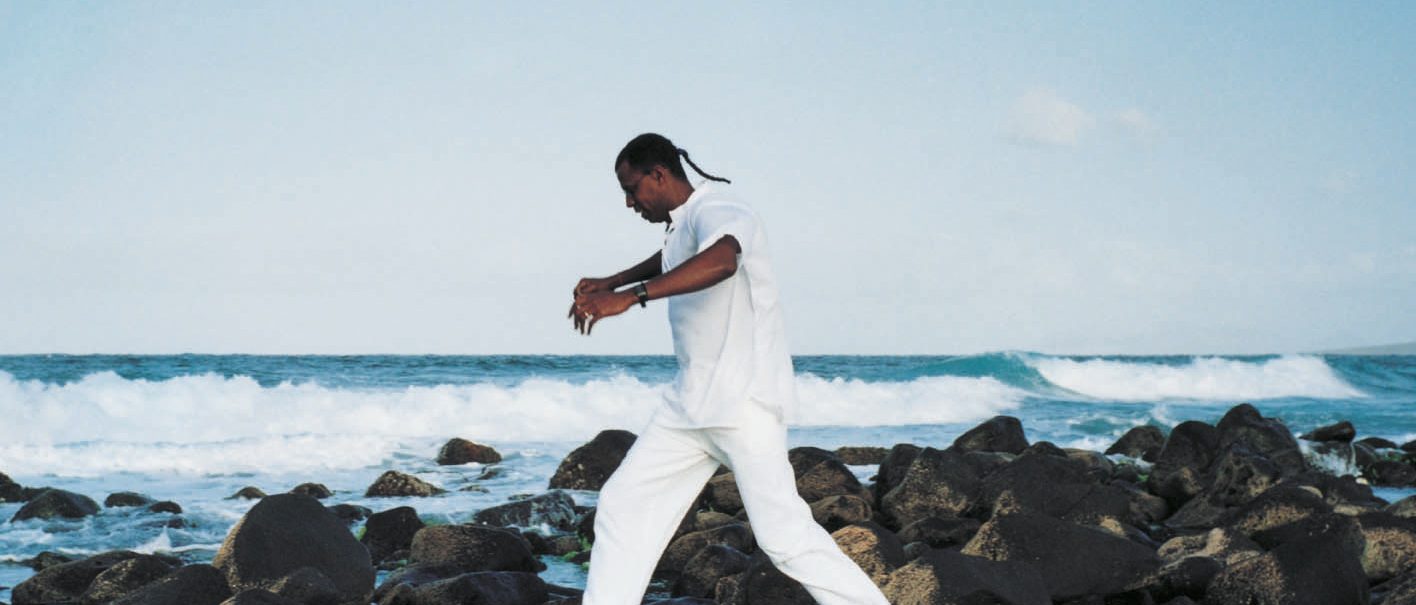 Bau
virtuoso guitarist from Cape Verde
When did his talent for music appear? Back in his childhood, obviously. It couldn't have been any other way. Many of his family were involved in music to a greater or lesser extent. You can't escape your surroundings, the obsessions and passions of the people closest to you. Bau's father was a stringed-instrument maker in Mindelo, the port of São Vicente island, the most famous in the Archipelago since the success of Cesaria Evora, also a native of this scrap of land that is also the home of many of Cape Verde's greatest artists and composers. Rufino Almeida was born there on the 19th December 1962. At the time, nobody knew that he would one day be know as Bau, tour the world with Cesaria Evora, record several solo albums, leave his mark ("Raquel") on the original soundtrack of a film by Pedro Almodovar, "Habla con ella" (Talk to her). When his father, who enjoyed playing the violin himself, handed Bau a cavaquinho when he was just six, he didn't realized what it would lead to. He had know idea that as he grew up, his son (and he was to be his first music teacher) would fall unconditionally in love with this small, high-pitched, four-string guitar and become a virtuoso, like the instrument's Brazilian master, Waldir Azevedo. Azavedo would later be one of Bau's models.
When the boy was 17, he formed his first group, Gaiatos, with Tito Paris and Bius. Now he called himself Bau, a nickname taken from Djoy, a footballer in the local team that he particularly admired. Every weekend, he played with Gaiatos in Mindelo, in a discotheque called Katem, a club that has since been transformed and renamed Café Musique, where groups can still be seen today. When Tito Paris left for Lisbon and the keyboards player began his national service, the venture came to an end. It had lasted one year. A new affair began, named Grito de Mindelo, a group with a vocation for dance music, like Gaiatos. Their repertoire combined local styles (funana, coladeira), zouk and Marley. These were the days of open-air dances, very popular at the time, but which failed to stand up to the competition of the discotheques that became highly popular with young people in Mindelo. At the end of the 80s, Bau abandoned the electric guitar that he had generally played until then and began to work on an acoustic project, mainly drawing on Cape Verdean tradition with forays into Brazilian music. He was also determined to highlight the possibilities of the cavaquinho as a solo instrument. Why this sudden turnabout? "I discovered the range of our music. It was pointless to carry on imitating things from other countries when we could put our hearts into serving traditional music from our country, the music my father played at home," explains Bau.
At the start of the 90s, he recorded his first album with the Mindel Band, including the first pieces he had written himself – "Mindelo" (Lusafrica) – and performed on "Mar Azul", the album that launched Cesaria Evora in 1991. In 1994, he joined the singer's orchestra and, two years later, became its musical director, before passing the baton to pianist Nando Andrade in 1999. From the beginning of the 90s, Bau has published 6 solo albums of a sparkling beauty.
.